Just as soon as I get time to blog,
my Internet service takes a vacation.
I could say ugly things about my service provider...
But I won't.
(I said them in my head though, they were not nice...ahem)
Well, all I have to share on my iPad are these two pictures of my family and my sister's family...it's rare that we are ever all in a picture together looking half way decent (our group shots are usually taken just minutes before we load up to travel at the conclusion of a vacation...& i don't get dolled up to ride in the car for several hours, do you?)....
Look at that stinker, William!
I just cannot believe he will be a year old this time next month!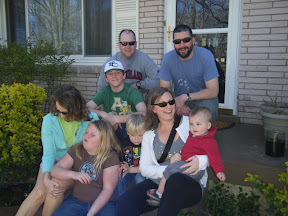 I'm looking down because something was crawling up my leg...anyway...
I'm off to deliver drinks to the baseball team, pick up Miss O & take her to swim league, then dry her off & drop her off at Daddy P's office, then take Sneaky E to soccer, while Daddy P takes Miss O to softball & meanwhile Big O is off playing a baseball game (& I really hate Thursday)...
Be back when AT&T decides to let me....
Mandy. :)
- Posted using BlogPress from my iPad