For some reason I've gotten off dreaming of having a little fish pond out by my patio. They are so pretty & peaceful & I love to watch the fishes. :)
I found the perfect spot for it, right outside the backdoor & can even be enjoyed from our dinner table.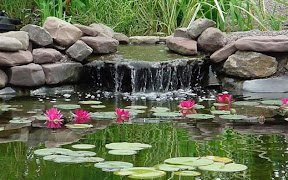 However, dreaming of a little fish pond is certainly not the same thing as building one...ha!
I'm doing some research, but I thought I would ask my blogging buddies if any of you have an experience constructing one. I would love to see pictures or tutorials if you have one. Please share a link in the comment spot or post it on my Craft Southern Mama Facebook page.
I'm trapped in the car for another hour...
Back to Pond Dreaming.....;)
Happy Weekend!
Mandy
- Posted using BlogPress from my iPad