I have several necklaces.
I'm sure P Daddy would argue with term "several" that I have used loosely there...
I have several necklaces, but they are all short statement necklaces.
This season it is all about LONG!
So, I am feeling frumpy & out of style this season. :(
Are you on the train to Frumpytown too?
Not anymore!
Today we are going to talk about this season's "hot item" the
TASSEL NECKLACE
! I have seen these everywhere lately!
These are really fun and are made with beads, metals, fringe, stones & rope.
Just look at these sassy sample pics I found on Pinterest:
Those are some really good outfit & styling ideas. Now, let's look at some that I found for sale online. They range (of course) from cheap to not very cheap, so you can be trendy and not have to be so spendy (I just made that up) which is exactly how this mama prefers to wear a trend look.
I am really leaning toward the wood beads with a simple tassel & maybe a stone.
These are really bright and fun, (& I think turquoise is going to be huge this summer).
AllGirlsNeed on Etsy
has a TON of these in stock and they are all very reasonably priced. These beauties below are $32 each.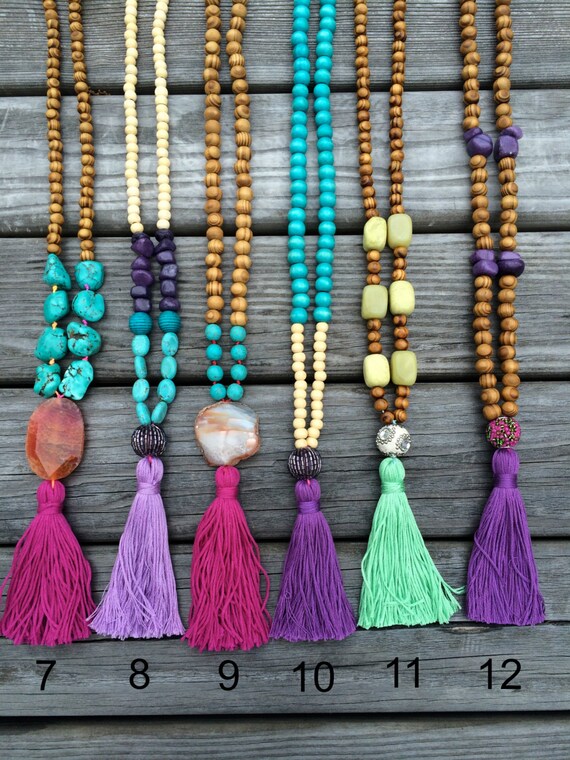 This one
comes in two colors & is 40% off right now at Loft (regular $24).
These are probably the prettiest I have seen,
on Etsy at 3Divas Studio
. These are pricy, but stunning!
Right now, this one is on sale for $9.98, regular $20. it is in the picture above with the white shirt. It's cheap & cute, I can like that, a lot! ;)
Junior Women's BP. Beaded Tassel Layering Necklace
And I haven't bought from them before but I really want to try them out,
Accessory Concierge
. This necklace is on pre-order status right now. Have you bought from this site?
This one is not a tassel, but is another from that site that I really like,
the Arrowhead Pendant
.
Then there's
this lovely piece from Anthropologie
...sigh.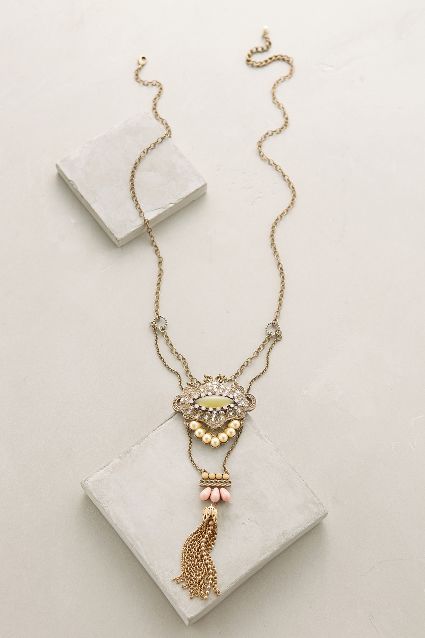 T
arget has this one
in
go with everything
neutrals FOR $11.88!
Stella & Dot has a gorgeous tassel called the
Azure Tassel Necklace
.
and another in silver called the
Gitane Tassel
. (this one comes in gold also)
Both of these are $69, but you can be assured they are the best quality jewelry & they are indeed gorgeous in person!
Of course, if you're crafty...you can make your own fun beaded tassel necklace.
Check out this simple video tutorial at
Fizzy Pop blog
.
Those are really cute & would be a great project idea for a middle school party or sleepover! (Ahem, I better pin that one!)
and since we are talking about necklaces
I have seen this one all over in silver and in gold...it's a really pretty necklace!
You can get one
HERE for $89
(exceptional quality & guarantee included).
Or you can
get it on Eleventh Ave for $7.99
...probably not the best quality ever but would work just fine if you didn't think you would wear it all the time.
Well, there it is...
The train to Frumpytown has left the station &
WE
are not on it!
Yep, dressing mamas, one trend at a time. ;)
What spring trends are you wanting to try this season?
I've got to dash off, Miss O has volleyball this morning.
Have a beautiful Saturday, sassy mamas!
Mwah,
Mandy